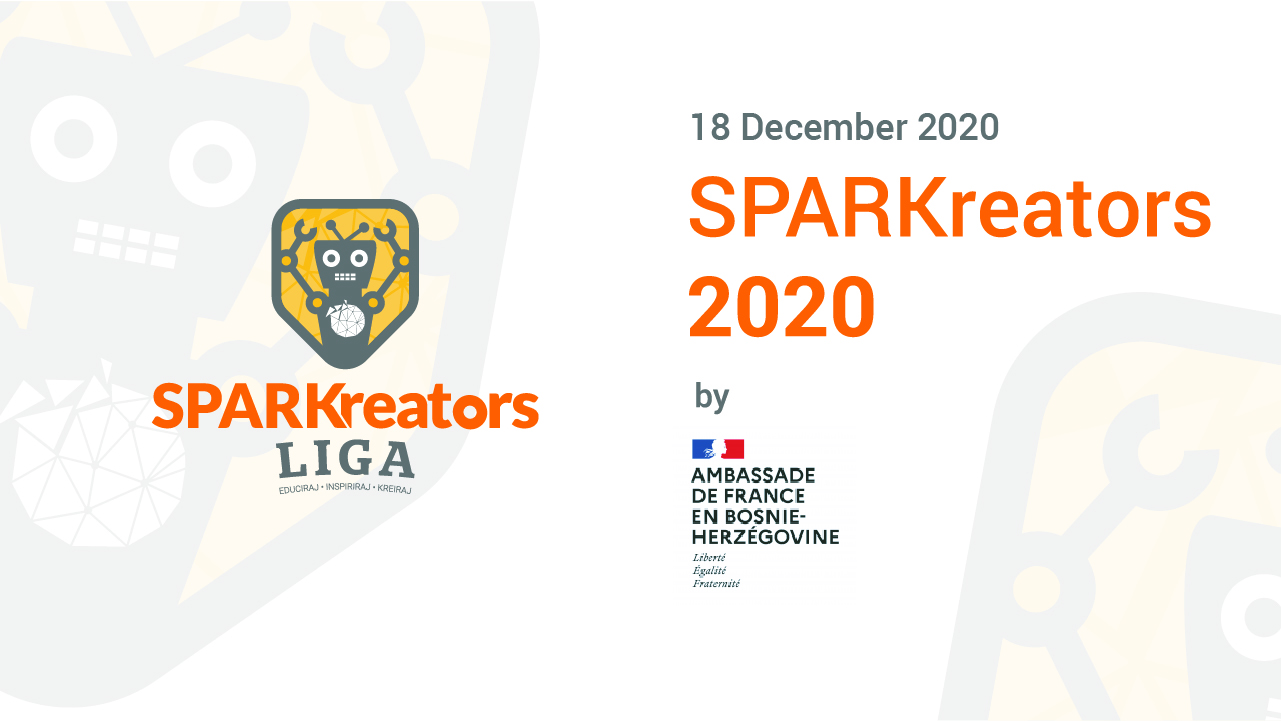 Posted: 10.12.2020 07:53
Event
37 schools will participate at SPARKreators
SPARKreators league will be held for the fourth time.
Since the year 2017 and donation of over 700 mBot robots to 370 primary schools, SPARK has organized a SPARKreators league. The first state championship in robotics was held in 2019.
This year's competition is for the school year 2019/'20 and will be held online instead of the live event that was planned for June 2020 and cancelled due to lockdown.
SPARK is organizing SPARKreators, the competition in robotics for primary school students. This year's competition will be held online. The Embassy of the Republic of France to BiH is the general sponsor of the competition.
"We always plan SPARKreators for the second quarter of the year, and this year we were planning to have in June. Unfortunately, we had to cancel the event due to the lockdown and the measures that followed. Nevertheless, we've conducted a questionnaire among primary schools to determine if we should organize an online event.
We have received great support that encouraged us to go with the event. Unfortunately, there won't be live gathering. Still, we chose a quality online format and adjusted the concept of the event. I hope that we will be able to recreate a wonderful atmosphere from the previously held SPARKreators events," revealed Matea Vučić Markić, Head of SPARK School.
SPARKreators competition will be held on the 18th of December, 2020. The event will be closed to the public – the participants will be the students with their mentors, a jury and the SPARK representatives.
"We received 37 applications. It is awe-inspiring to have 37 schools participating at the event. Besides, ten more schools expressed the interest to participate but unfortunately are not able to due to isolation or sick leave of students or professors. We are so pleased to see how enthusiastic the professors and the students are about this project and how keen they are to acquire knowledge outside the curriculum," concluded Markić Vučić. 
The concept of SPARKreators competition foresees teams of up to five students. One student will present the project on behalf of a team within 10 minutes. The presentation will also include a video presentation made by a team.
SPARK and the Embassy of the Republic of France to BiH have prepared prizes for the winners and the certificates for the participants.
SPARKreators is the second most visited event by SPARK right after Find Your SPARK gadget show.